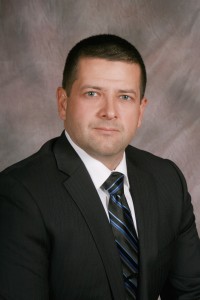 Gregory E. Whited, owner of FireTrackers, LLC has the experience and the technical knowledge to get to the bottom of any fire investigation. He has over 24 years experience in firefighting and law enforcement, and holds credentials in accelerant-detection canine handling, arson investigation, hazardous materials and fire and explosion investigation.
Certified by the International Association of Arson Investigators (IAAI) as a Certified Fire Investigator, the National Association of Fire Investigators (NAFI) as a Certified Fire/Explosion Investigator and also by the State of Texas as a Law Enforcement Officer, Instructor and a Firearms Instructor, Mr. Whited has served as lead investigator on over 500 fires.
FireTrackers conducts investigations ranging in scope from small incendiary fires to large industrial accidents. Mr. Whited has been deposed in fire death cases, and has been involved in many pre-trials with the City of El Paso District Attorney's office. He also instructs fire investigation classes as well for colleges, firefighters and law enforcement agencies.
Gregory E. Whited, Fire/Explosion Investigator
Cell: (575) 489-4800 or
(915) 308-FIRE (3473) | E-Mail: G.Whited@firetrackers.com | Las Cruces, NM 88012

New Mexico Chapter- IAAI Board chairperson on training, Oct 2016-Present
Prevention Captain, Mesilla Volunteer Fire Department, Sept 2016 – present: Fire fighting, fire inspections, fire investigations, and training.
Prevention Lieutenant, Mesilla Volunteer Fire Department, June 2016 – Sept 2016: fire fighting, fire inspections, fire investigations, and training.
President, FireTrackers, LLC, Jan 2010 – present: fire and explosion origin and cause investigations, fire safety consulting, fire investigation training, accelerant detection canine services.
Adjunct Professor, New Mexico State University-Dona Ana Branch, Jan. 2012 – present: college professor in criminal justice and fire science related fields.
Adjunct Instructor, New Mexico Firefighters Training Academy, Feb. 2015 – present: fire service training as needed.
Senior Claims Representative, Texas Gas Service, Nov. 2010 – Dec 2016: major incident investigations, claims administration, safety and investigation related training.
Private Investigator, Vector Investigative Services, Aug. 2006 – 2012: fire origin and cause investigation, accelerant detection canine services.
Deputy Constable, El Paso County Constables Office Prct. 4, Dec 2008 – Oct 2012: law enforcement.
Arson Investigator, El Paso Fire Department Fire Marshal's Office, Nov. 2001- Jan. 2009: Fire investigation, Code enforcement, Public Education, accelerant detection canine handler.
Texas Peace Officer, El Paso Fire Department Fire Marshal's Office, Aug. 2002- Jan. 2009:Law enforcement, records management, law enforcement instructor, firearms instructor.
Fire Suppression Technician, El Paso Fire Department, 11 Jan. 1999- Nov. 2001: Firefighting, Medical response, Technical Rescue, vehicle operations, crew supervisor.
Firefighter, El Paso Fire Department, Jun. 1993- Jan. 1999: Firefighting, medical response.

Certifications: (current)

IFSAC New Mexico Fire Fireghter 1, Dec 2017
IFSAC New Mexico Haz-Mat Awareness and Operations, Aug 2017
National Registry Emergency Medical Techinician, Aug 2017
IFSAC New Mexico Fire Service Instructor 1, June 2016
Bachelors of Science-Fire Administration, Columbia Southern University, Oct 2014, Magna cum laude
IFSAC New Mexico Certified Fire Investigator, May 2012
IFSAC New Mexico Certified Fire Inspector, May 2012
Associate in Applied Science-Fire Technology, New Mexico State University, May 2012
Associate in Criminal Justice, New Mexico State University, May 2011
Accelerant Detection Canine Handler/Certifier, American Working Dog Assoc., Apr. 2013, Sept 2014
Certified Fire Investigator, International Association of Arson Investigators, Mar 2010 #32-031902
Certified Fire and Explosion Investigator, National Association of Fire Investigators, Oct 2007 #13157-6530
Private Investigator- New Mexico Private Security Bureau, 2010
Private Investigator- Texas DPS. 2008
Interview, interrogation, and courtroom testimony- National Fire Academy, 2005
Fire investigator- National Fire Academy, 2004

Education

Continuing education hours from various organizations available on request.
Columbia Southern University, Fall 2013 to October 2014
New Mexico State University, Las Cruces, NM, Summer 2010 to Spring 2012
University of Texas at El Paso, El Paso, TX Fall, 1987 to Fall 1988
United States Military Academy, West Point, NY, Fall 1986 to Summer 1987
Eastwood High School, El Paso, TX, 1982-1986
Meet Shila